Senna Manufacturing
Jyotindra International is one of the largest exporter manufacturer and supplier of Senna Leaves Powder and Senna Pods Powder and its base products. It has total Senna Pods and Leaves production capacity around 2000 Tons per annum. There is policy of the company to upgrade the equipments to get the best quality product thus today company stand at the first rank in 100 % customer satisfaction on quality, on time delivery and prompt in communication
Cleaning of Senna Pods and Leaves
Jyotindra International has its own supply chain in Jodhpur, Sojat , Falodi and Bikaner to supply uninterested Senna Pods and Leaves supply. We are also dealing in contract farming and organic farming as per European Standard .
Senna is manually cut from the plant and primary clean at our Jodhpur facility where we remove all the sand, seeds, foreign matter and separate the leaves according to their grade. We have fully covered RCC flooring latest equipment in the Jodhpur Faclity.
Drying of Senna Pods
We have one of its kind facility for artificial drying of Senna Pods at our Palanpur facility to reduce the moisture thus increasing self life of the product .
Final Cleaning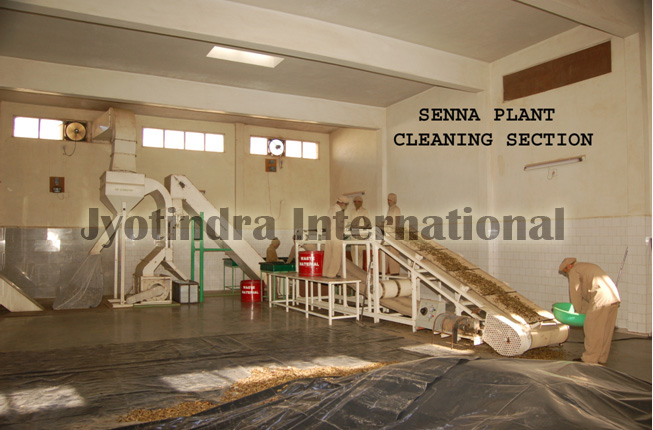 Material is clean at final stage of cleaning through manual and machine cleaning before bailing into final packaging
Fumigation Chamber
Finish material Senna Pods / Leaves is fumigated in vaccum chamber for effective fumigation and this will help to reduce the residue problem upto certain extent
We are Exporting our products in
Afghanistan
Australia
Austria
Argentina
Bangladesh
Belgium
Bhutan
Brazil
Canada
China
Colombia
Egypt
Germany
Hong Kong
Iran
Italy
Japan
Kenya
Macau
Malaysia
Mexico
Namibia
New Zealand
Pakistan
Philippines
Russia
Singapore
South Africa
Sri Lanka
Thailand
USA
Zimbabwe
KeyWords
Senna Manufacturing | Senna Pods Exporter | Senna Leaves Exporter | Senna Powder | Senna Leaves Pods Manufacturer | Senna Leaves Pods Supplier